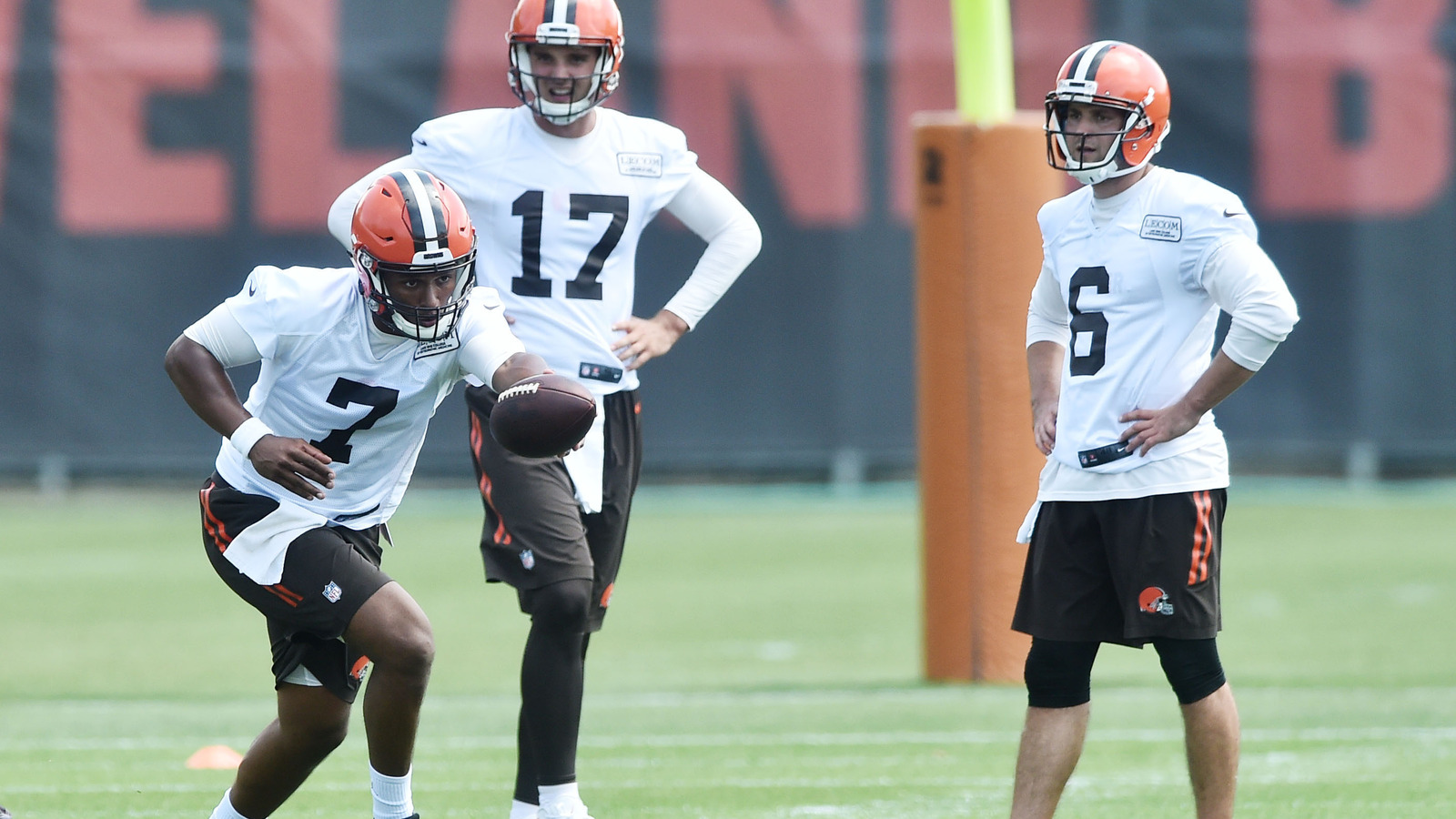 The quarterback carosel in Cleveland: 2017 edition. Ken Blaze-USA TODAY Sports
NFL training camp battles define the direction of franchises on an annual basis, and we're always surprised by at least a few of the winners. Guys come out of nowhere to claim vital roles for their respective teams, and those stories are always a thrill to follow. On the flip side, players we expect to succeed sometimes falter, opening the door for their teammates to shine.
No doubt, there are some NFL training camp battles we won't talk about here that will feature unheralded talents. We can't wait to see who emerges from the shadow of obscurity this year to become stars.
Based on what we can see in front of us, however, there are plenty of intriguing NFL training camp battles set to take place in the coming weeks.
With that in mind, the following are the 10 we think will have tremendous impacts, both for the teams involved and the NFL in general.
Denver Broncos, quarterback (Trevor Siemian vs. Paxton Lynch)
Given the insane defensive talent on Denver's roster, not to mention the talent at receiver and running back, the Broncos should be a playoff team. They almost were last season, falling a game short of postseason play even though they got some mediocre quarterback play from Trevor Siemian and Paxton Lynch.
The two signal callers are embroiled in a quarterback competition this summer that might not be decided until very late in the preseason. Based on the information that's come out of offseason workouts, however, it would appear the job is Siemian's job to lose.
Of course, if Siemian does win the job, then things will continue to be awkward throughout the season. If he plays well and keeps the job, then the team's decision to trade up for Lynch in the 2016 NFL Draft will come into question. And if he struggles, then the calls for Lynch to play will be a source of drama that could drag on throughout the season.
Hopefully, one of these young men takes this job with some authority during training camp. A strong offense, led by a competent quarterback, will make Denver one of the strongest teams in the AFC.
Seattle Seahawks, running back (Thomas Rawls vs. Eddie Lacy)
Russell Wilson has been like a tackling dummy the past few years. He's been phenomenal under pressure, but he's also been sacked and pummeled after throws far too often. If this type of abuse continues, then his career won't extend as long as it should.
The offensive line remains a big problem in the passing game, so the Seahawks must get back to pounding the rock. Last year that was a missing element, as Seattle ranked No. 25 in the league rushing the ball.
Needless to say, either Thomas Rawls or Eddie Lacy needs to provide consistent production on the ground. Lacy has been racking up cash as he meets his weight goals leading up to training camp. If he can stay healthy and keeps his weight under control, then he can definitely make a difference.
Though, the contract extended to Lacy appears to have motivated Rawls, who has been lighting up the practice field with his energy and noticeable burst.
One of these guys needs to step up and prove he can be the bell-cow running back the Seahawks need.
Cleveland Browns, quarterback (Brock Osweiler vs. Cody Kessler vs. DeShone Kizer)
On paper, the Browns appear to have some pretty impressive talent across the board. Their offensive line is darn good, they have some running backs and receivers who can make plays and have a defense that really could light some teams up in 2017.
No, we're not predicting a playoff run for this squad, but if the offense can score points the Browns …
Read Original Post at
http://www.yardbarker.com/nfl/articles/ten_most_intriguing_nfl_training_camp_battles/s1_12680_24363919

Sports Media 101 searches and spiders for news it aggregates from across the web about your favorite sport or sports team. This article is originally posted at another site not affiliated with Sports Media 101. The portion of the article posted here is to provide a sample of the content available at the linked site. Please click the link to read the full article. Sports Media 101 does not claim any ownership to the content and all rights are retained by the original copyright owner.
Tags:
Chicago Bears
,
Cincinnati Bengals
,
Cleveland Browns
,
Denver Broncos
,
Houston Texans
,
Hue Jackson
,
Josh McCown
,
JuJu Smith-Schuster
,
Minnesota Vikings
,
Mitch Trubisky
,
New Orleans Saints
,
New York Jets
,
NFL
,
Pittsburgh Steelers
,
Sean Payton
,
Seattle Seahawks
,
Todd Bowles